Oh there are so many possibilities with this Happy New Year Chalk Art Tutorial! You can write 'Happy New Year' or simply '2018' – even 'Celebrate!'
Have you noticed that we've been using black construction paper often lately? It just shows off the beautiful chalk colors! Plus I think construction paper simply 'holds' the chalk pastels so well.
Remember how Nana has taught us – you ARE an artist? This is your painting! Think about fireworks for the new year, a strand of lights, confetti. Make it yours and with any colors you would like.
Happy New Year Chalk Art Tutorial
Suggested supplies: black construction paper, a rainbow of chalk pastel colors and baby wipes or wet paper towels to wipe chalky hands.
Begin by writing your new year message in outlined blocked letters. You may choose to do it differently but I thought this gave it sort of a Star Wars effect. I wrote my Happy New Year all in blue.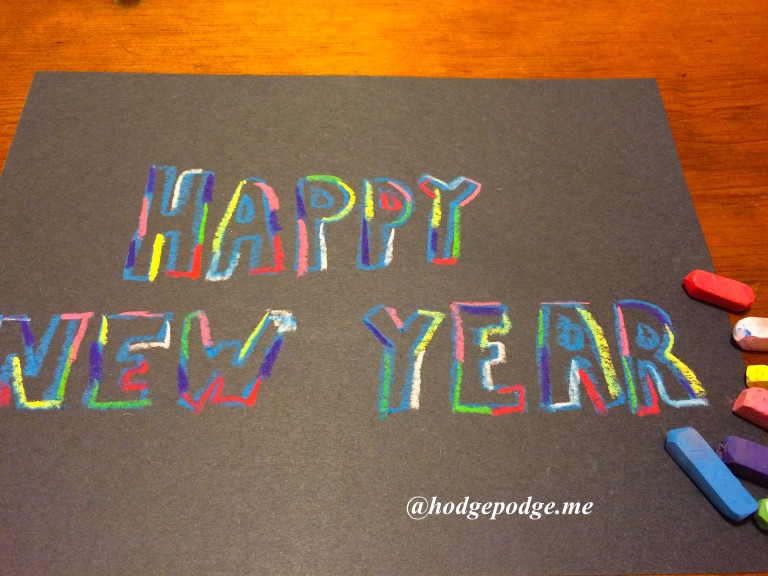 Next, take all the different colors and outline right over the blue. Just in short, little marks.
Next, take your finger and 'pull' the color away from each letter. Stretch it out any way you'd like. Then add more celebratory color.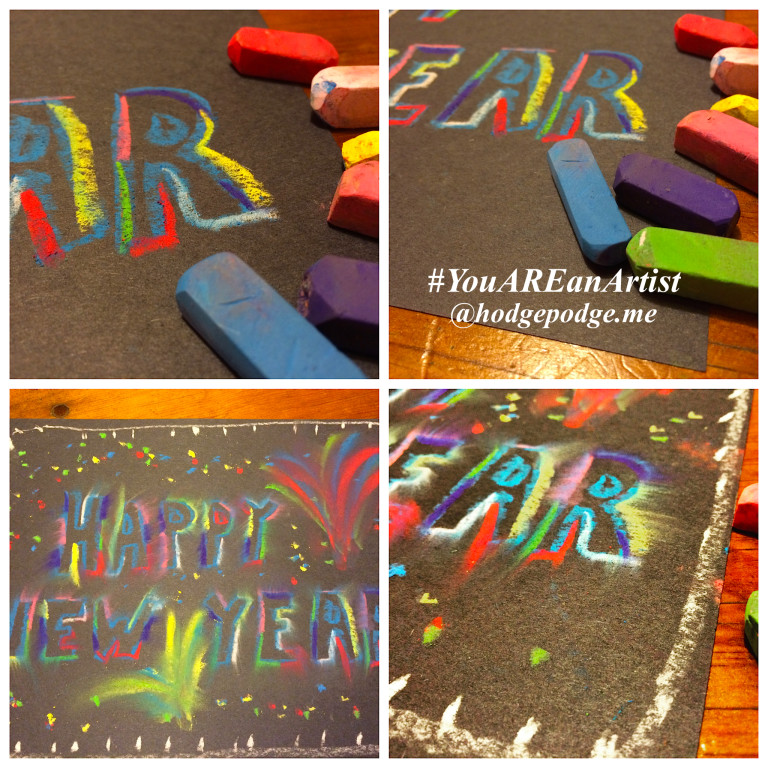 Fireworks, confetti, a strand of white Christmas lights!
More New Year Art Lessons
Featuring You! You ARE an Artist!
A note on chalk pastels: Pastels are an easy, forgiving medium. Fun for children and adults alike! Details on the pastels and paper we use, how and where to purchase, and links to all of Nana's other pastel lessons are here: 100+ Free Art Lessons for All Ages plus the video The Very Few Must Have Supplies for Chalk Pastel Art. A simple set is very affordable. Nana also teaches acrylic lessons.
The practical aspects of a mess: Pastels are blessedly messy. We always have baby wipes close by to wipe hands. We wear something we don't mind getting stained or don a smock.
—>> Subscribe to Hodgepodge so you won't miss any future art tutorials! <<—
Have fun and Happy New Year! Because you ARE an artist!