At least once a month I like to update you on some family fun around Atlanta. But today I also have some fabulous sales for you as well!

The children in front of the larger-than-life Christmas ornaments this past Saturday at Pemberton Place – in front of The World of Coca-Cola. Makes for great Christmas cards! See photos and read more details from our trip Christmas trip to World of Coca-Cola last year.
World of Coca-Cola Holiday Celebration
This is a continuing event from November 19 through the new year!
Here are a few highlights:
–          Holiday lights: Pemberton Place is decked out in twinkling lights and larger-than-life ornaments.
–          Polar Bear Letters: Send a surprise to someone special by requesting a personal invitation to the World of Coca-Cola from the Coca-Cola Polar Bear himself.

–          Gift ideas: World of Coca-Cola annual passes make great stocking stuffers, and The Coca-Cola Store at the attraction offers many more gifts for everyone on your list.
–          Seasonal exhibits: Explore new holiday exhibits "Coca-Cola Christmas Around the World" and "History of the Coca-Cola Santa."
–          Seasonal beverages: Gingerbread Coke, Chocolate-Covered Cherry Coke, Sprite Cranberry and Sprite Cranberry Zero are back for a limited time in the Taste It! beverage lounge.

High Museum of Art
Day After Thanksgiving – View the entire program at High.org
Friday, November 28, 2014 10:00 a.m. – 9:00 p.m.
Make the High your new post-Thanksgiving tradition! Come anytime and enjoy the day with friends and family: discover new works of art on a scavenger hunt, hear live performances, catch a film, and participate in all-ages art-making activities. Don't forget to shop for creative holiday gifts!
Kids receive FREE admission all day!  <—–
·         Museum open from 10 a.m.-9 p.m.
·         Programming scheduled from 1-9 p.m.
PLUS: Receive $5 off purchases of $20 or more in the Museum Shop!
Please Note: The High is open for extended hours on Saturday, November 29 from 10 a.m.-6 p.m., and regular hours on Sunday, November 30 from noon-5 p.m.

Atlanta History Center
Homeschool Day – Holidays in History December 5th
The Atlanta History Center offers special monthly programs for homeschool students and their families. Each month explores a different subject through exhibition tours and a variety of activities geared toward kids from toddler to teen.
Enjoy our annual holiday program and experience how Christmas was celebrated in years past, from the 1860s Smith Family Farm, to the 1930s Swan House, and beyond.
Admission to Homeschool Days is $8.50 nonmembers; $6.50 children of members; and free for adult members. Discounted rates are available for groups with 10 or more children. For more information, or to make group reservations, please call 404.814.4018 or email Homeschool@AtlantaHistoryCenter.com.
Plus Candlelight Nights has returned! Join the Atlanta History Center on December 4th and December 18th from 6:00 – 10:00 pm for beautiful candlelit trails, decorated historic houses, Meet the Past characters at Swan House and Smith Family Farm, holiday activities, tasty food, and warm beverages. For more information about the details of what's going on during the event, visit AtlantaHistoryCenter.com/Family.

Homeschool Freebies and Sales
Homeschool.com's Holiday Fun Event is in full swing. Lots of free holiday printables, science experiments, recipes, website trials, and more (including some Hodgepodge!)
Homeschool.com's 2014 Gift Guide – such fun! It's chocked full of great educational gift ideas—just in time for the holidays.
Homeschool.com's Holiday eMagazine – GREAT articles about Thanksgiving, Chanukah, Christmas, Kwanzaa, and New Year's Eve.  Lots of fun holiday ideas!
After Thanksgiving – Black Friday and Cyber Monday Sales!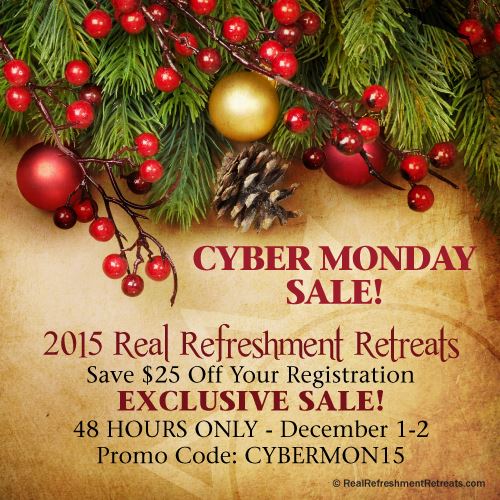 Real Refreshment Retreats – Cyber Monday Sale!
This Friday through Cyber Monday – Compass Classroom – 30-50% off storewide, with massive savings of 50% off their best selling Visual Latin. (Lowest price ever!) Just click the image above!
The affiliate links included are for resources we absolutely love. Please see our disclosure policy. So, if you click through and purchase any of these wonderful Compass Classroom products, a portion will go into our homeschool funds and art supplies.

Plus our A Simple Start in Christmas Chalk Pastels is available now and only $4.99 and perfect for your artists! Want to give it a try? We have a FREE video tutorial How to Draw a Christmas Wreath (just scroll down a bit).
Have a blessed Thanksgiving and please let me know if you take advantage of some of these wonderful, local holiday attractions!