As part of this weekly wrap up I'm sharing help for the homeschool mama. One help? We were on a semi-spring break this week. All I required was math and then let the rest just happen. We did some sprucing up in the yard and had some fun pulling out the plastic swimming pool (it was warm enough!). One went to a birthday party at the aquatic center, one went to visit a friend. We all took advantage of the spring weather for some nature studies – irises and dogwood. We continued to learn more about Mozart plus stayed up way too late watching movies.
Plus had a Club Penguin Puffle party to cheer up one with a 24 hr sickness  🙂
Today, we continue our annual tradition of planting on Good Friday. It's what both my grandfathers always did. The danger of frost has surely past. And there's just something promising about putting seeds in the warm dirt on Good Friday. Perfect opportunity to talk about Easter with children.
To wrap up this post, I'll share a collage of photos from our spring break below. But first, a fun post from Hodgepodgedad.
Daddy Destinations
"We got away from the house, the electronics, the television and just enjoyed each other's company." The latest Daddy destination at Passionate Purposeful Parenting. These adventures are usually surprises. Maybe a picnic surprise at the local park is just what you and your family need? A low-cost getaway.
How to Blog in 15 Minutes
Keeping my priorities in order is a priority. So, finding time for actually writing posts can be a big problem in a homeschool, blogging mama world. There is just no such thing as long, peaceful stretches of time to write. So, I will offer my solution.
How a Homeschool Conference Can Help You in Your Journey
Next, with homeschool conference season in full swing, I shared this post at Heart of the Matter. It includes highlights of what I learned at the Apologia Live homeschool retreat in Atlanta.

Plus, since we are talking about conferences, you will want to click to see all the wonderful speakers lined up to encourage you at the Heart of the Matter Spring Fever Conference. This is an online conference you can attend from the comfort of your home!
Tapestry of Grace Reviews
You may know that we are really big Tapestry of Grace fans around here. Well, Tapestry recently ran a Love TOG blog contest and we won in the Hands-on Learning category. Several of our posts are featured on the Tapestry site. You can click over and see if you can spot the Hodgepodge under Tapestry of Grace reviews. If you are considering Tapestry for your homeschool, you will want to read my Comprehensive Tapestry review featured on the Tapestry site and linked to The Curriculum Choice.
And here is what we spent spring break doing…
1. creating a cross with chalk pastels | 2. an Angry Birds lemonade stand | 3. we got out the plastic pool and of course made mud too 🙂 | 4. at the Cheesecake Factory with my high school friends | 5. youngest girl was sick one day and she colored many Easter eggs | 6. Handbook of Nature Study iris study | 7. making a double batch of Southern Plate's Rise & Shine biscuits | 8. Reading practice with Starfall.com | 9. My Blue Boat for Before Five in a Row | 10. Blueberry pound cake – Kristin's recipe | 11. Boys reading about the boy Mozart – thanks Harmony Fine Arts! | 12. Dividing hostas and more along our front walk
Many thanks to our Friday hostesses…
Camera Phone Friday hostess Dawn Camp @ My Home Sweet Home,

Weekly Wrap-Up hostess Kris at Weird, Unsocialized Homeschoolers and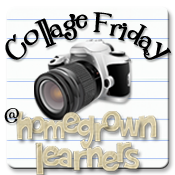 and Jamerrill at Holy Spirit-Led Homeschooling.
Happy Easter everybody!