It has been a long while since I have shared a Collage Friday and weekly homeschool wrap. That is due to several reasons. And, of course, we have been practicing the helpful homeschool habit: fly!
"What if I FALL? Oh but my darling, what if you FLY?"
We've been busy homeschooling all our ages here at Hodgepodge. But also…
We had a week of sickness. (ugh)
We had a week of spring break! (yay!) Complete with Easter and field trips.
~This post contains affiliate links to resources we have used and loved for years – and those we highly recommend! Please see our disclosure policy.
So while we did fall, we flew. In many ways…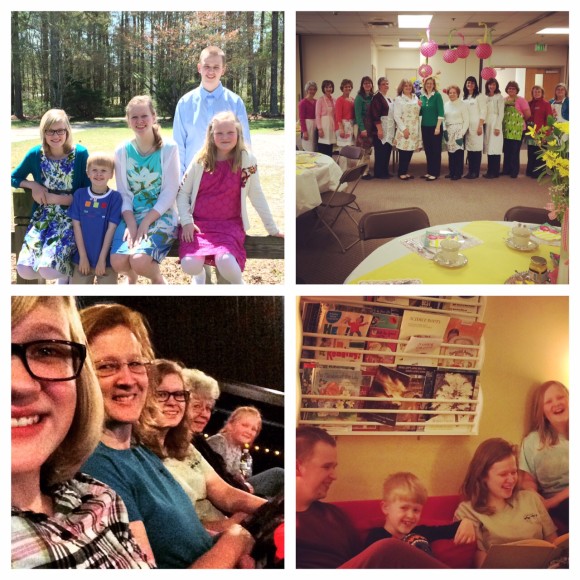 I was in prep mode to speak at my church's women's ministry (huge blessing!) And I shared the message that the Lord gave me here at Hodgepodge as well: Keeping God as the Center of Your Life. Photos above: 1. My favorite photo of my five on Easter. | 2. Getting to speak at my church's women's ministry event. It is a privilege to see the body of Christ at work. So many talents! | 3. Have courage. Be kind. And forgive. (All of us girls seeing Cinderella). | 4. This Sunday night laughter brought to you by our eldest and her silly version of Mike Mulligan and His Steam Shovel.
Spring Nature Study 1. Spring showers on azaleas. | 2. Let all those who seek You rejoice and be glad in You; and let those who love your salvation say continually, "Let God be magnified!" – Psalm 70:4 – First purple iris! | 3. Sweet little nest blown out of the redbud tree. Middle Girl found it empty but it still has some pretty, pink blossoms. | 4. Spied on the way to the mailbox. Just can't stop sharing spring! #bumblebee #redbud
New to Us: A Plan in Place Homeschool Planners: My middle schooler received her student planner for next year. She spent quite a bit of time with it when it arrived. She said, "Oh! look at all these boxes! Places for goals, books read, and over here – the daily schedule. I really like this. Can I have this next year too?" Her only complaint was that I didn't order it to begin the months in May! Read more about A Plan in Place at The Curriculum Choice and enjoy a discount code.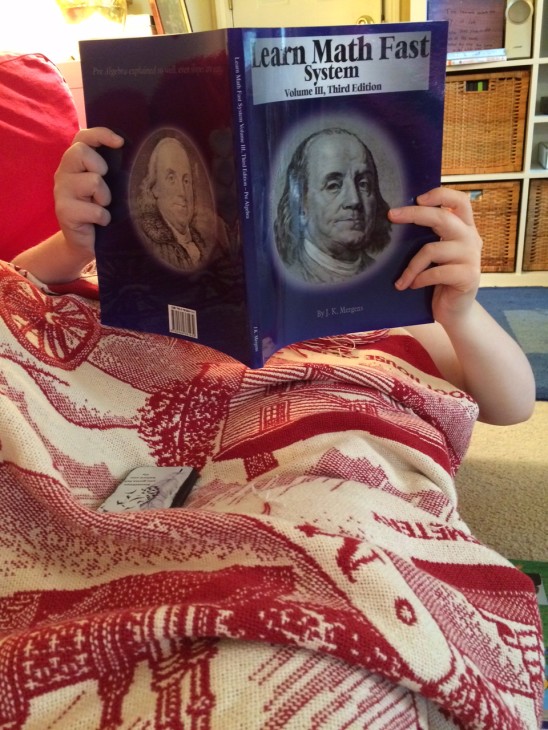 Learn Math Fast: We have been blessed to use the Learn Math Fast System since last fall. From algebra to multiplication to addition – all our ages. More to come at The Curriculum Choice soon.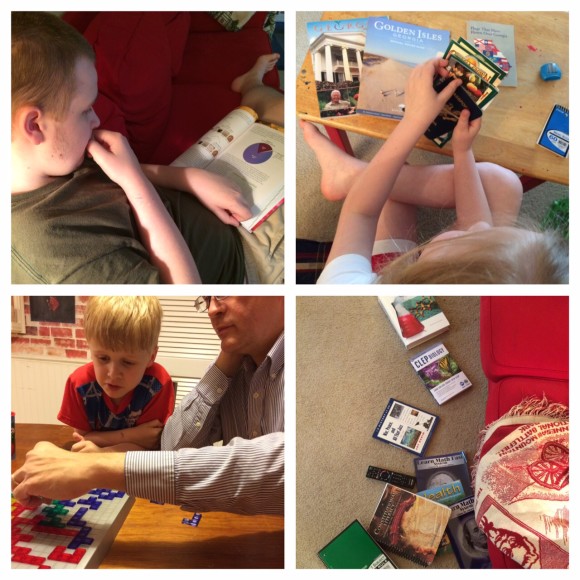 Homeschooling High School and Multiple Ages – 1. Our sophomore son is loving Apologia Chemistry. He goes back to modules he has already completed and reads them aloud to me. This day he was telling me about the composition of dry air. | 2. This homeschool moment brought to you by 3rd grader. When younger brother asked about the birthday of the United States, she wondered about the birthday of our state of Georgia. So I pulled out all our info from field trips and state notebook work and she is doing research and now typing a report. Yes! | 3. Game night – Blokus | 4. I always know when my high schoolers have finished certain Apologia and Tapestry of Grace assignments. Home – and a comfy couch to read. (Pictured: Learn Math Fast,
LEP resources from REA
and
Apologia Chemistry
)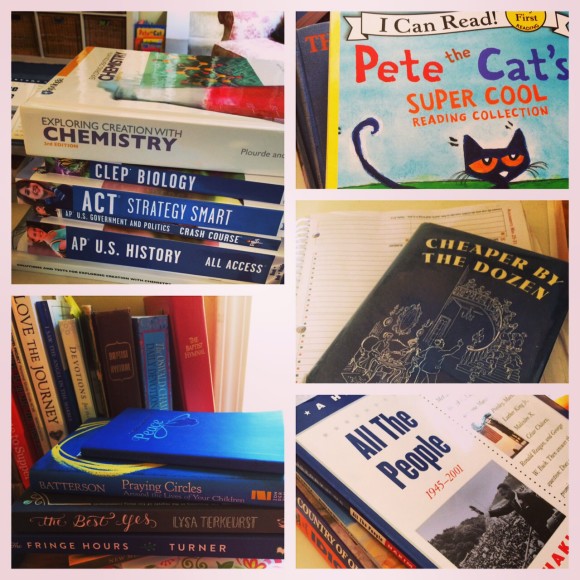 Lots of Books – The stacks currently on end tables, night stands and the coffee table.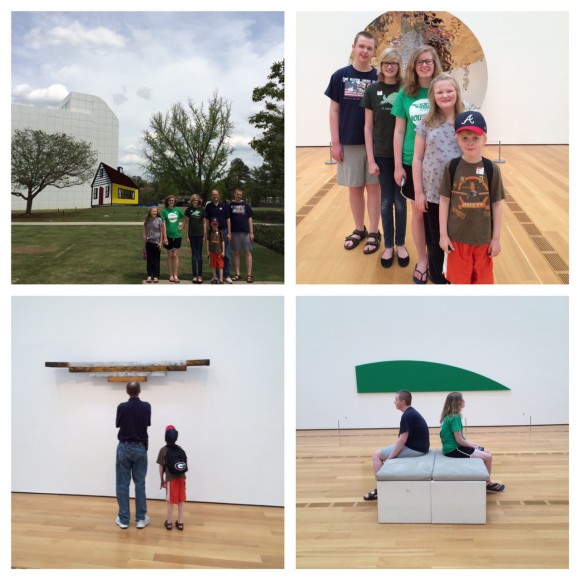 Field Trips! Imagining New Worlds at High Museum of Art Atlanta. More Spring Homeschool Field Trips Around Atlanta.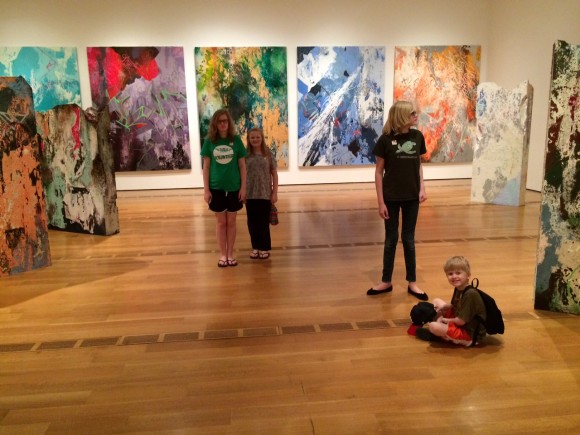 We really had a great time as a family going through the Jose Parla exhibit and…
We loved 'The Coca-Cola Bottle: An American Icon at 100', the art Andy Warhol, the bottles recycled into bowls and Coke bottles through the ages.
Special Treats – 1. Had a fun time with our church family at Together on Tuesday at Chick-fil-a for Winshape Camps (and yes those are frozen lemonades!) | 2. Shh! It's quiet time here and I allow myself a Trim Healthy Mama cheat now and then. One scoop of ice cream with a small amount of toppings. Mama snack. | 3. It's a beautiful day at Kennesaw Mountain National Battlefield! The early morning rain cleared the pollen clouds so we had a good view of Atlanta. | 4. A visit to Mama Ann's and trying out the stereo viewer. We played Blokus with great-grandmother and noticed the dogwoods and azaleas blooming.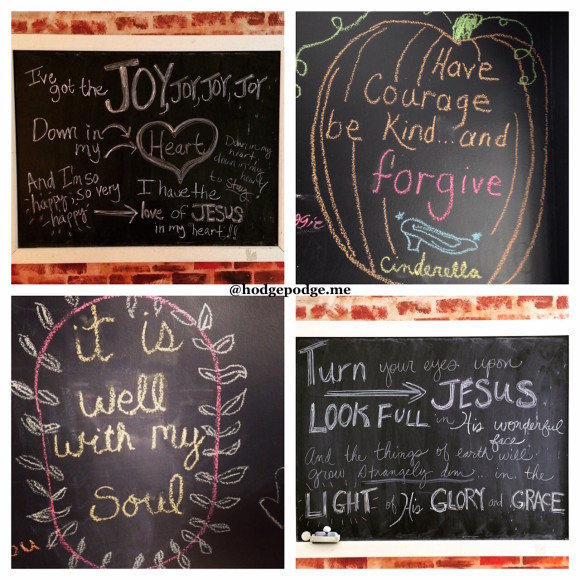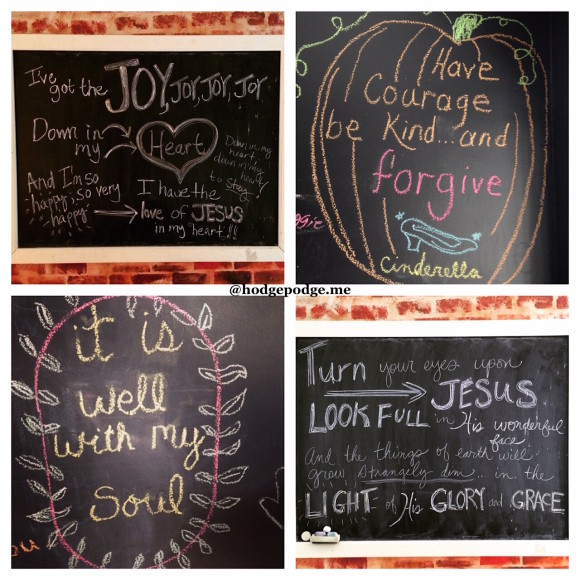 Chalk Art Round Up – 1. Joy! I have learned in whatever state I am in , to be content (Philippians 4.11) | 2. Cinderella on Nana's chalkboard. | 3. It is well with my soul. | 4. Turn your eyes upon Jesus…

This past Monday morning…We are having a slower start to our homeschool learning this morning after spring break. How about you?
More Hodgepodge to Explore
Homeschool Resources for All Ages – 40-50% off sales! – from our favorites – Harmony Fine Arts and AmandaBennett.com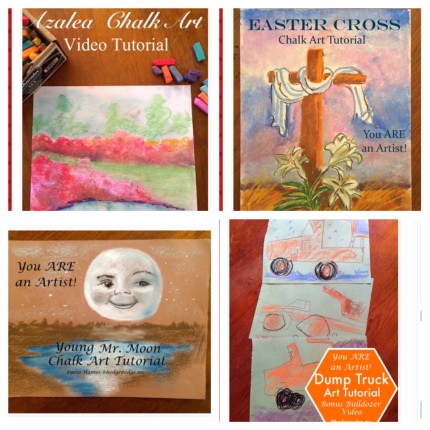 1. Azalea Chalk Art | 2. Easter Cross Chalk Art | 3. Young Mr. Moon Chalk Art | 4. Dump Truck Art Tutorial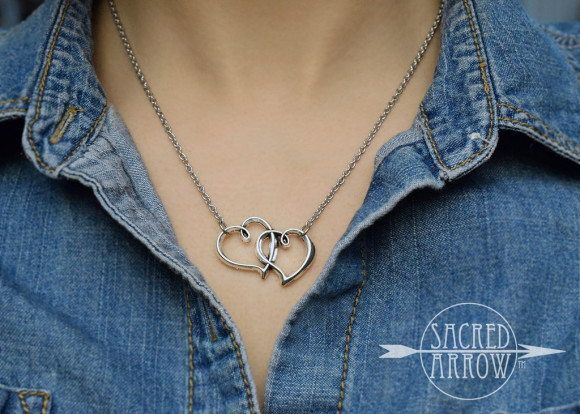 Essential Oils Diffuser Giveaway – this beautiful necklace would be perfect for Mother's Day!
How to Get Started Homeschooling – because I've gotten several questions lately.
Many thanks to these kind hostesses (I'm linking up!):
Wow. I don't think I've ever done a monthly wrap! How about you?